Home Page
Didn't get enough Simple Plan?
Here are the other members of the band!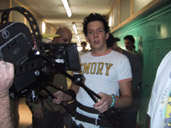 Pierre Bouvier
Date of birth: May 9th, 1979
Fav. color: Black and Blue
Fav. bands: Good Charlotte, The Beach Boys, Blink-182,
New Found Glory
Fav. food: Sushi
Fav. movie: Back to the Future, The Matrix,
American Beauty
Fav. TV show: Friends
Fav. boyband: Backstreet Boys
Fav. video game: Tony Hawk Pro Skater II
Fav. book: 1984 by George Orwell
and Harry Potter 1 to 4
Fav. magazine: Victoria's Secret catalogue
Guitly pleasure: Ben and Jerry's chocolate chip cookie
dough ice cream
Boxers or briefs: Boxers
Fav. superhero: Wolverine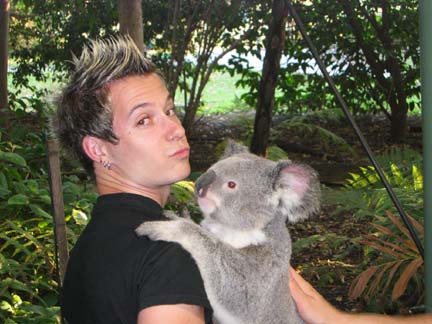 David Desrosiers
Date of birth: August 29th, 1980
Fav. color: Black
Fav bands: Papa Roach, American Hi/Fi, Weezer,
Jimmy eat world, Green Day, 22 Jacks, No Doubt, Sugar Ray, Face to Face, Sum 41, Blink-182, Foo Fighters
Fav. food: Sushi
Fav. movie: Grease, Pump up the volume
Fav. TV show: Wonder Years
Fav. boyband: Backstreet Boys
Fav. video game: Pro AM
Fav. book: Kamasutra
Fav. magazine: Modern Drummer
Fav. actor / actress: Robin Williams / Drew Barrymore
Guilty pleasure: Peeing in the shower just relaxes me
Fav. superhero: Superman
Sebastien Lefebvre
Date of birth: June 5th, 1981
Fav. color: blue
Fav bands: Deftones, Bjork, Green Day, Jimmy Eat World,
Incubus, Zebrahead, Willa Ford...
Fav. food: Tuna sandwich, Spaghetti
Fav. movie: American Beauty, Braveheart
Fav. TV show: Crocodile Hunter, The Simpsons
Fav. boyband: 2Gether
Fav. video game: The Final Fantasy series
Fav. book: The Harry Potter series
Fav. magazine: any comic book
Fav. actor / actress: Kevin Spacey / the old lady
in The Wedding Singer and Road Trip...
Guilty pleasure: Talking on the phone
until 4 in the morning
Boxers or briefs: boxers
Fav. superhero: Spiderman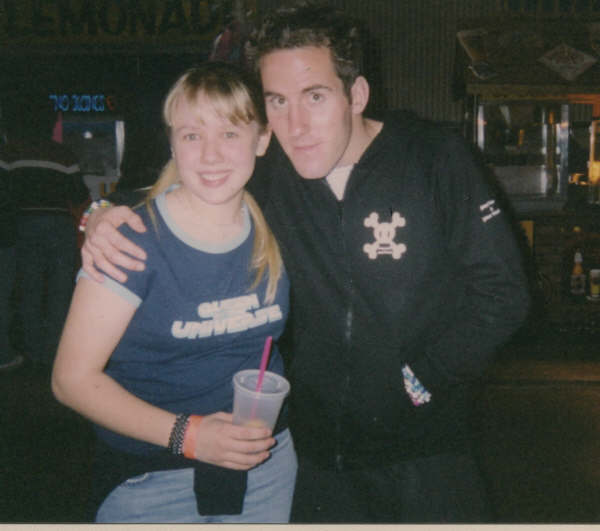 This picture is cool
This picture was taken at JBB5 at the Tacoma Dome. (lol)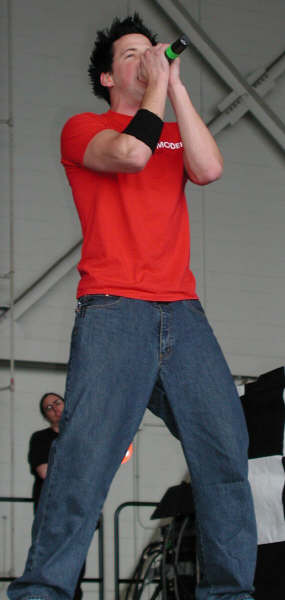 A nice pic of Pie!!!
The title of this one was "wow" I don't what that was about, unless there was some perverted thing. Knowing the person who sent it in, it probably is perverted. :)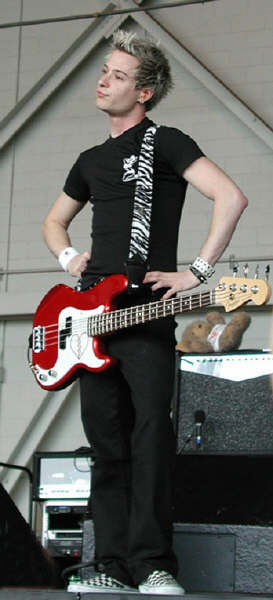 A picture of David
Cool Teddy Bear!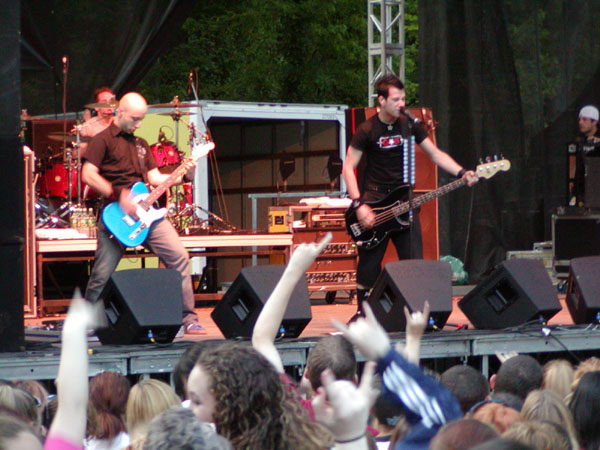 Simple Plan Experiences
This is my experience from April 28, 2003:
It was my first concert and I was so excited. We found our spot behind the VIP people. They really made me angry! I wanted to be closer. Anyway, GOB was about to go on and this evil demon lady came on the big screen and she was kind of creepy, then GOB came on and they rocked. In the middle of their performance, the kicked Craig and brought David up. My friend Kelsey and I were screaming and going crazy. He was awesome. After GOB came…Simple Plan!!! YAY! They were so cool. Pierre did "Ice, ice, baby," "In Da Club," and "Lose Yourself." Pierre didn't know any of the words for "In Da Club," while the whole crowd knew every word. Simple Plan was done, so we raced up to meet them. We found our friends in line and waited. We were next in line and the stupid security freaks cut us off. My friend Alyssa told us to stick around and we did, and we saw Pat in an elevator with David's girlfriend. I waved at Pat and he waved back. Then another friend of mine tried trading her "smart hat" for Pat's hat, which was a little special. We yelled "We love you Pat!" and he said, "I know." Then Simple Plan came down the line and got into the elevator. I have an awesome picture of the backs of everyone's heads. LOL. Well, Simple Plan left and we decided since we didn't have any Advil, we didn't want to stay for Avril… so we left and laughed at the people on the radio who said they left after Avril was done to meet SP, and how they had Avril withdrawel.
Alyssa from Conneticut
rolemodelgurl89@msn.com
http://gcbeforemtv.cjb.net
i saw them on December 17th which was a couple weeks ago. We had pretty suckie seats, but they rocked anyway. Sooo...there were other really crappy people there like jessica simpson, mya, eek...but we just came to see sp. Well, they played almost every song on their album and they played "Happy Together" from Freaky Friday, but then it was over. So as my friends and i were walking out i said, Becca...look over there, and to our left was chuck standing right there in the middle of the lobby. We were talking to him and stuff and got a really good picture that i am going to scan soon. It was a lot of fun. these other girls that had been there for a while said pierre and seb had come out earlier, but we were in watching Maroon 5...thats okay though...im going to the MXPX/SP concert in NYC in Feb. so im excited. Laterness...